On your rush to Benbecula airport, you might wonder what happens in Balivanich's new Eabhal Business Park before dashing past and checking in to your flight.
Well, we at Uist Beò are here to enlighten, and tell you about 7-22 Systems Ltd, a company within these new build offices, which is run alongside of Fraser Architecture by our next guest, Alex Durie. 7-22 Systems is managed by Alex, and his fellow directors Robert and Janice Fraser and they have set out to think of 'A new way to build' and design with modern approach to building houses.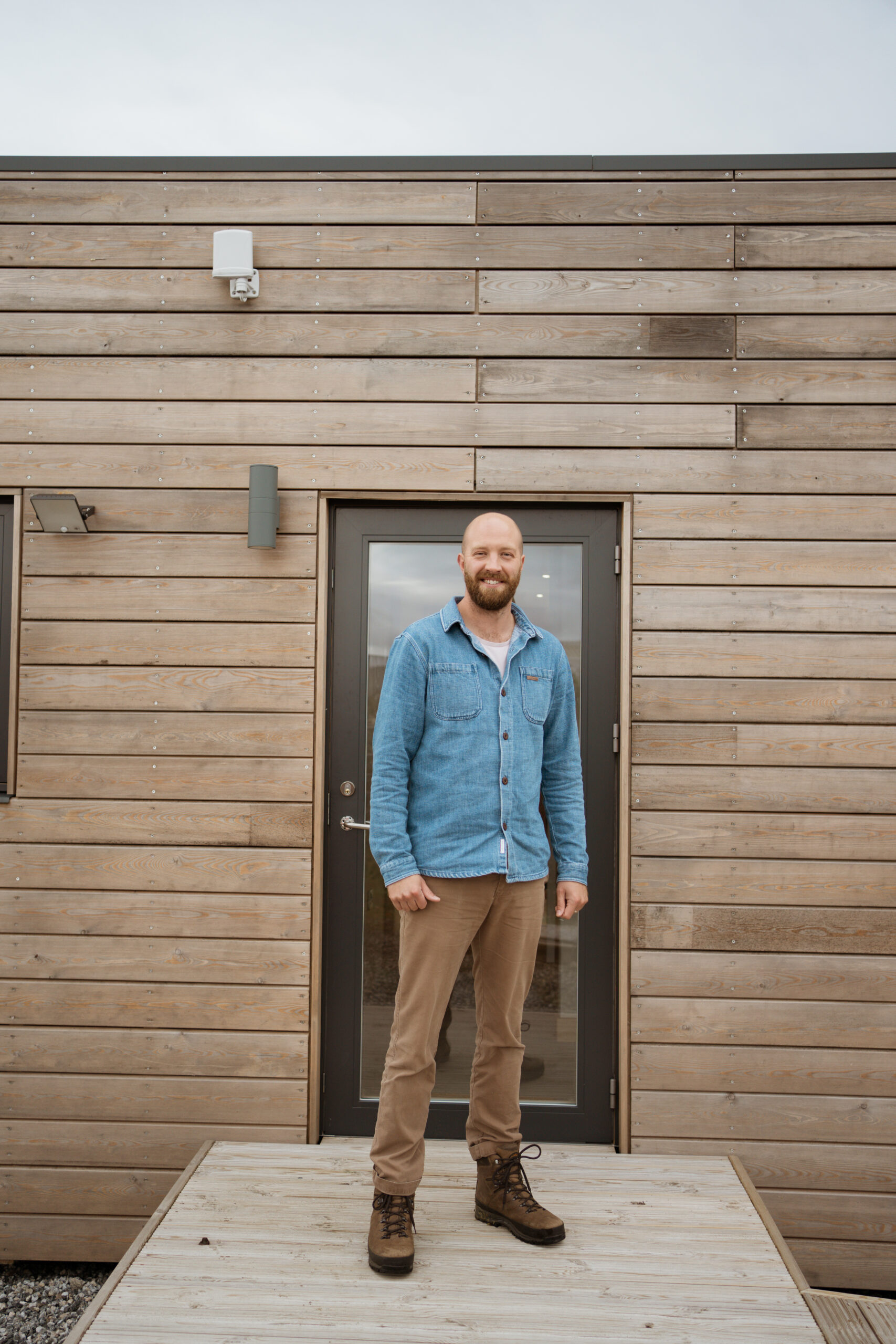 'About six years ago, we started thinking about how we can build better, have more control over our projects and implement a really ecological way of building that's suited to the challenges that we found building in Uist. So we formed 7-22 Systems.
We've invented a new building system, essentially, which has been approached from our knowledge as architects in how to build really green buildings. There's a phrase 'fabric first', which is how we've approached everything.'
Building with a 'fabric first' approach prioritises the energy efficiency of a building right from the get go, and 7-22 Systems have done just that. Initially the team got themselves a very basic machine and started experimenting with the various components of a structure and how they might be made and fit together, eventually coming up with this new building method.
'So, we've invented a building system that slots together like a big Lego kit.
We don't need cranes or anything to put our buildings up. We make it all in a workshop, it's all prefabricated and slots together easily and we try to minimise waste. That's a really important thing.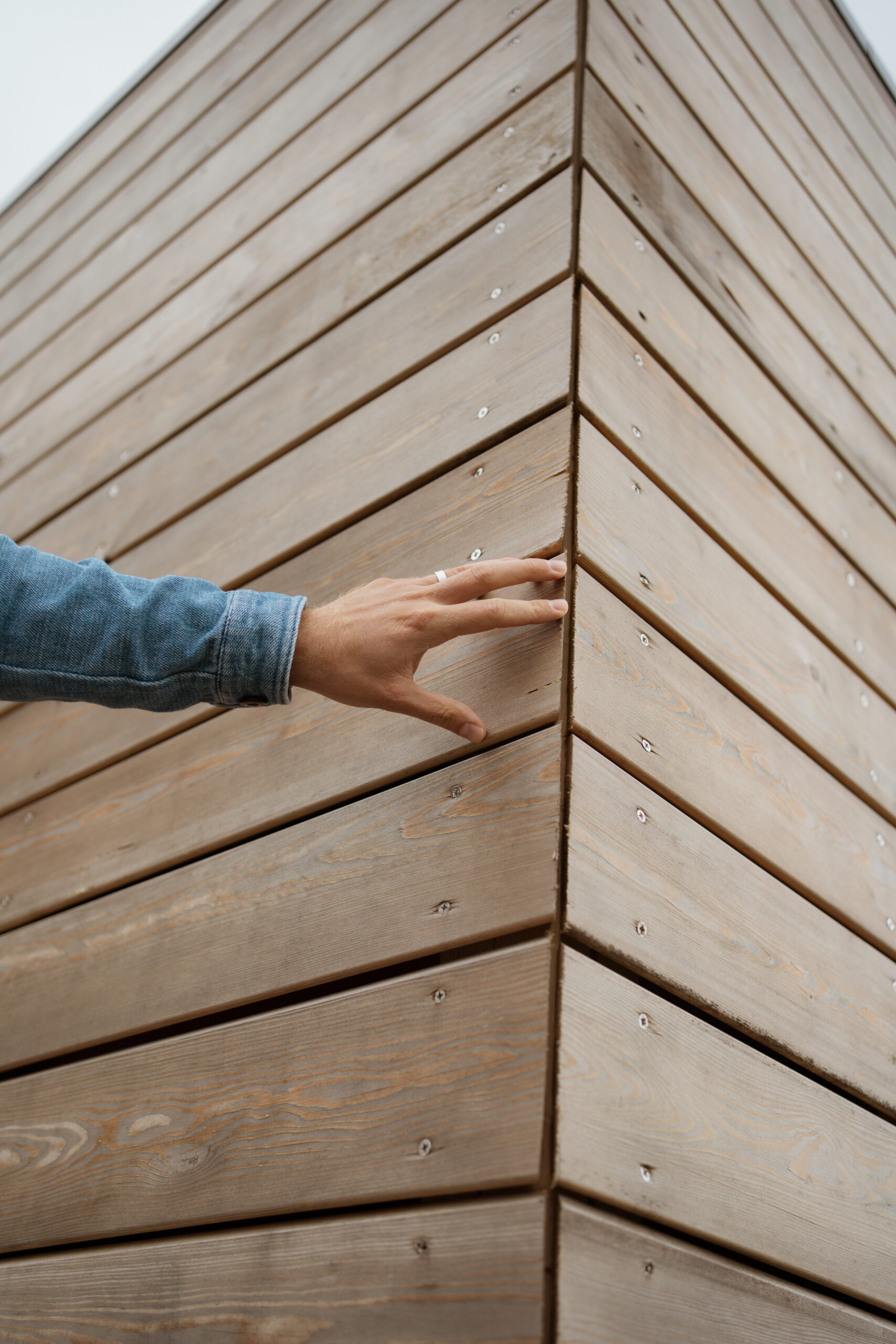 The whole production system, the whole design of the components is about being as green as possible and being as easy to construct as possible. And that's where we arrived at our system.
I think the key thing is it's not a complicated system. We've made it as simple and repeatable as possible. We had to choose the materials we were going to work with. So we use local – well, localish, and chose to work with OSB board, from Inverness.'
After coming up with their building method, Alex and the team started with a prototype. From there, they went through various hoops to get funding for their idea and after some structural testing, fast forward a few years and 7-22 Systems have employed more people and have been able to turn their theoretical exercise into their first new-build house – and now they're onto the next project.
'It's a collaborative process. Everyone on the team can have an input as we go through a build, can help us with the system design or the process, or how we take something to site, or anything they think of. We're open to collaboration as a team from anyone, because it's an iterative process.
We make the OSB board into beams which can span up to 6 metres one way. We fill these hollow beams with recycled newspaper insulation, a product called Warmcell. Then use a really high tech membrane that goes around the building, which makes it both breathable and airtight at the same time called Wraptite. We're doing research and development in the wool insulation with BE-ST to try and make that more local if we can.
This suite of beams and boxes are all made out of OSB board and nothing else, just OSB. It's engineered and designed to slot together, so we can create the floor, the walls and the roof in any design that we want to envisage. We've had it all completely structurally tested in Galway at the Timber Research Institute there. We found that it's 1.6 times stronger than a normal timber frame in terms of how it performs structurally.'
OSB board or 'Oriented Strand board' is a timber product which is formaldehyde free – this is a big tick from an ecological perspective.
The company is also setting up a process which utilises CNC machinery technology within their workshop, basically a robot which cuts out wood. These designs are fed into that machine, and it cuts out the components which then get assembled by the team for the new home to be.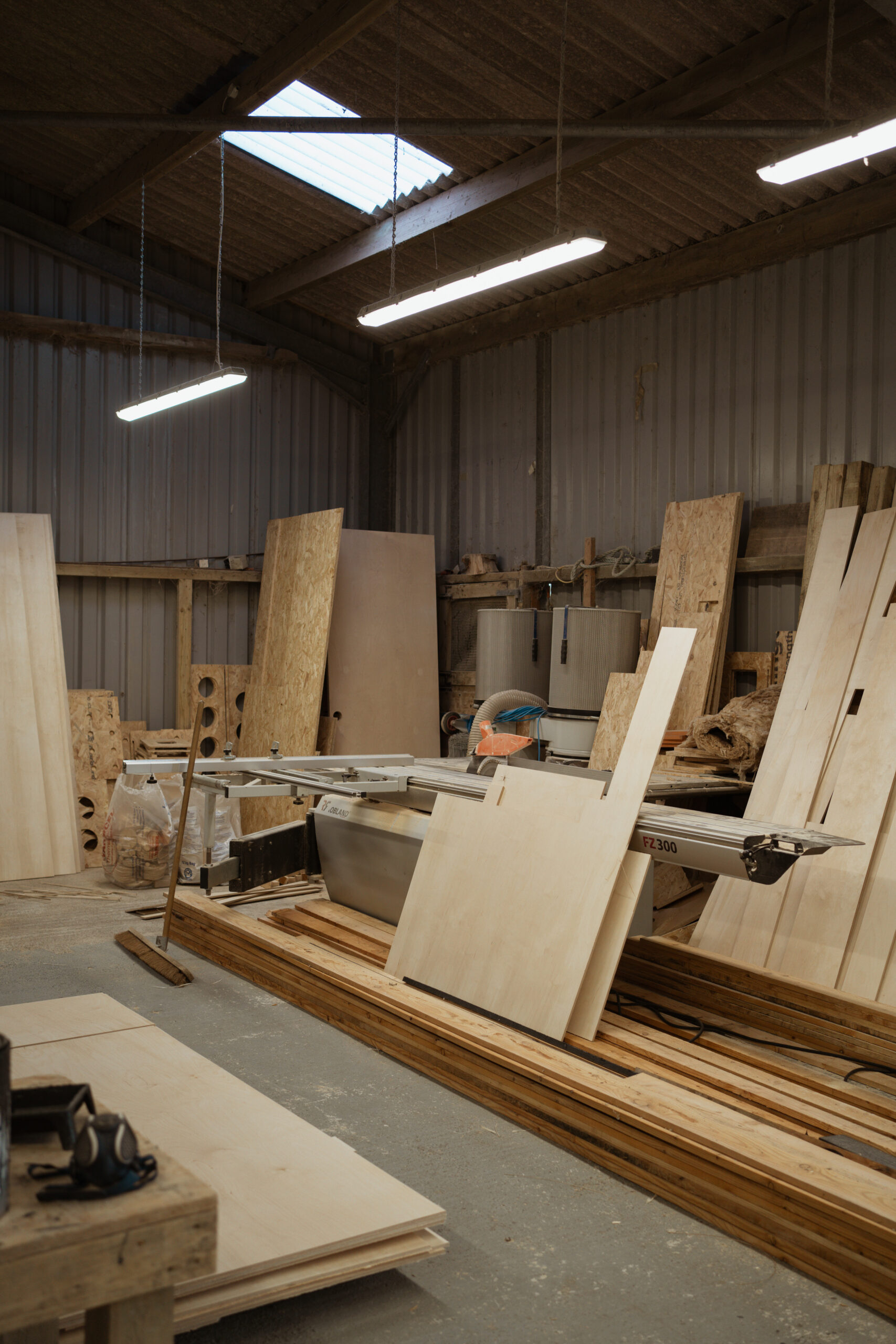 Building energy efficient, green structures is what motivates Alex and the team, and for this goal, insulation is key. Working from the ground up, 7-22 Systems also have their own way of building the foundations, in their first project overcoming a peat depth of 2.5m by recycling old oil drums and filling them with concrete.
'Rather than digging out a mountain of peat and filling it with rubble and then putting a slab on top, we dug little holes into the ground and put the oil drums down filled with concrete and levelled them off.

So these are the piers. Then we put the beams to make the floor grid up. Then we drop some boxes into that to make that a completely insulated floor. Then we build the walls on top of that, then the roof slots on top, just like that. Easy as that.
We're recycling a local waste product. We're using minimal concrete compared to a standard traditional way of doing it, and we're also leaving the peat in the ground, not drying it out and releasing a load of carbon. So, we think it's now a methodology for maybe building on sites which people wouldn't have looked at before.
Minimising concrete use is a really important part of that process as well, because concrete and cement have a huge impact on global emissions every year.
It's extremely well insulated and is really suited to working in a rural context, like where we are here in North Uist and throughout the Outer Hebrides and the West Highlands.'
Alex mentions that he believes that everyone deserves to live in an architect design house. Although the upfront cost of this can be high, the running costs of these new builds will stay low. They're looking at breaking down this initial cost barrier by having pre-designed house types which can be applied to any site, something they're looking at developing at the moment.
'If you build a building that's really well insulated to market leading standards and make it really airtight, you can control the air that goes in and out. From then, it really doesn't matter what you heat a building with, it's a really green building from the first principles.
We actually build a healthier and higher quality product at the end. We're designing a predesigned range of houses, so there'll be architect design, but they're going to be almost like buying a car. There are a few people out there that do this already to try and meet that market.'
Although this is a new method of building, these houses are built to last! This building system is helping save the planet and 7-22 Systems are proud of what they're building. The construction world has also looked favourably toward Alex, Robert and Janice's new idea.
'Everyone's been very supportive about what we're doing. You can see how it can help tackle some of the pressing problems that we're trying to get to grips with as a society in terms of housing demand, building better and greener, and tackling fuel poverty, that's really important to us.
We just want to build greener buildings that don't harm the earth, it's as simple as that.'
To see how 7-22 Systems are developing, take a look at their website here, and maybe you can use this new method for your new home.