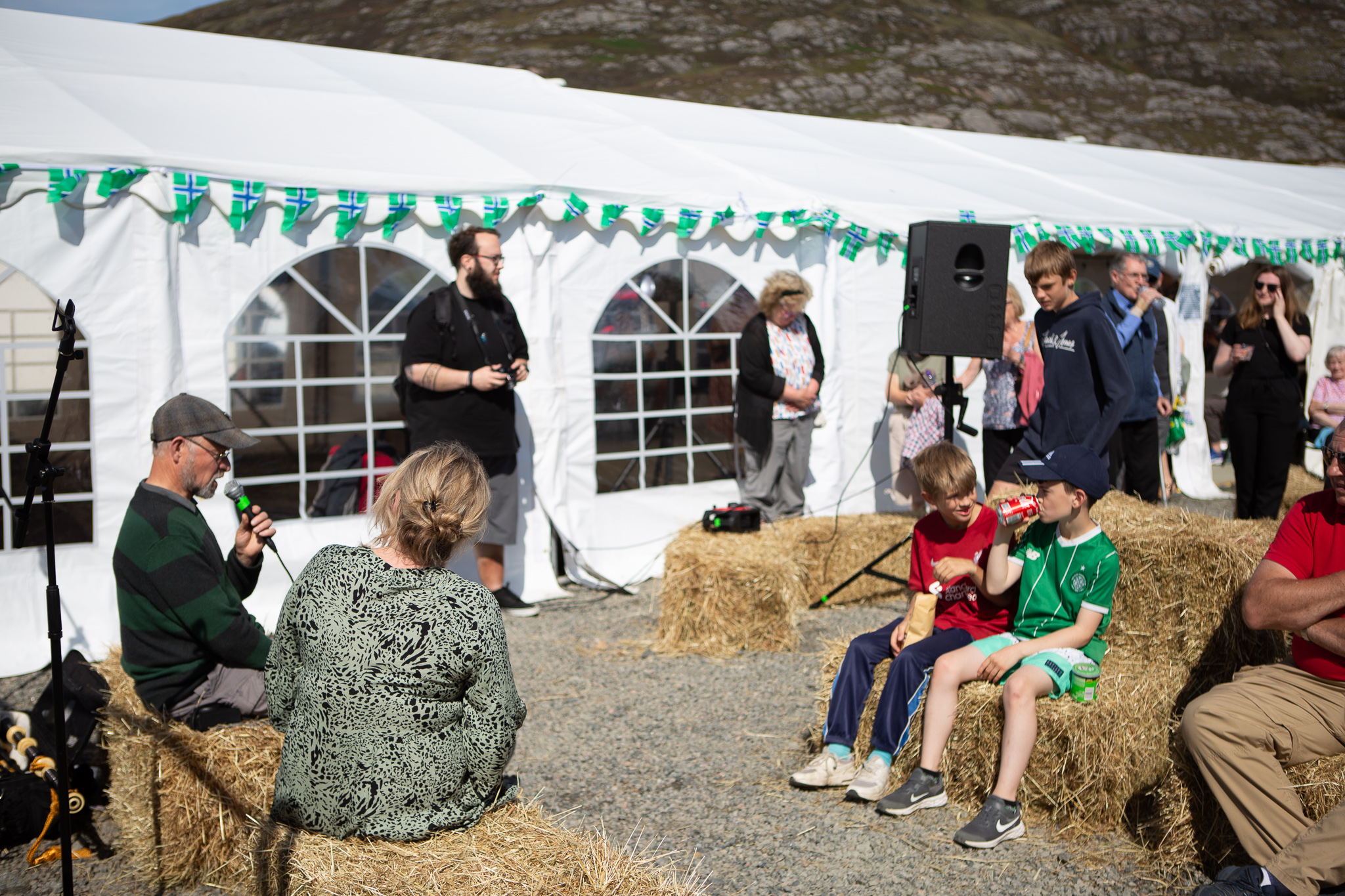 When I think of the year on Uist, what comes to mind is a cyclic structure that stays close to the old Gaelic calendar. Growing up in a crofting community contributed to this intuitive understanding of the year in this context. In this blog post, I will take you on a journey through the year and look at contemporary staples in the Uist calendar in relation to deeply rooted traditions.

In the Gaelic calendar, the overarching names of the seasons are as follows: Geamhradh (Winter), Earrach (Spring), Samhradh (summer), Foghar (autumn). Then each season has its feast days: Là Fèile Brìghde (Feb 1st), Bealltainn (May 1st), Lùnastal (August 1st) and Oidhche Samhna (Oct 31st). You will also find that routines around the croft keep to a regular cycle, and the old calendar of the year is tied to an ancient understanding of agriculture's growth and renewal cycles.
The time from Oidhche Shamhna (31st October) to La Fèile Brìghde is winter, with spring technically arriving on 1st February; however, I can almost guarantee it won't feel like spring. According to folklore, A' Chailleach wakes from her slumber on the first day of February; she will ensure the weather is nice and sunny. This sunny weather should allow her to gather firewood to prepare for more wintery weather. So, it might not be bad if it's blowing a hooly complete with sleet on Là Fèile Bhrìghde. It means the Caileach has enough fuel for her fire, and pleasant weather is just around the corner. You do hope that she hasn't miscalculated.

Winter is the liveliest time in terms of weather. If you're new to Uist and plan on moving here, I would recommend you spend some time on the islands over the winter; the weather can be challenging, and the days are short, but if you can embrace this season, then you're well on your way to becoming an Uibhisteach. It is also one of the busiest times to be a crofter, with all the tasks that come with wintering livestock and doing all of this in weather that can be challenging. At the end of the day, though, nothing is quite as satisfying as knowing you have provided the best you can for your animals. Whether you keep sheep or cattle, it won't be long until lambing or calving comes around.
In terms of events during the winter, keep an eye out for Ceòlas' Fèis Chuilaig- this program of musical and Gaelic language events which runs close to Hogmanay. In 2023 it was scheduled before the Old New Year (January 12th)

Winter is now winding down, and spring is here. Well, that's what you thought because it's now the end of March, and it's snowing!? Welcome to Sneachda Bheag nan Uan (little snow of the lambs) – a cold blast that can hit in March and the beginning of April and, as the name suggests, arrives at the height of the lambing season. It rarely lasts long, but it still shocks the system. Once that's over, it should be plain sailing to Beltain (1st May) and the summer season.

Over the summer, you can expect some of the most significant events on the summer calendar. From the beginning of July, it's Fèis season – Fèis Tìr an Eòrna and Fèis Tìr a' Mhurain are essentially week-long traditional Gaelic arts summer schools for children; you will find classes in singing, piping, shinty, art, fiddle… the list goes on. Running during the same week as Fèis Tìr an Eòrna is the Ceòlas Summer School, where you will have the opportunity to take part in masterclasses from some of the most well-known figures in Gaelic Traditional Music and Dance. During the week, there will also be a packed program of ceilidhs, talks and walks throughout South Uist. Perhaps while you attend Ceòlas, the kids could participate in the Fèis. However, I should also point out that there will be opportunities to receive tuition in music all-year-round in Uist; the summer events are simply the icing on the cake.
Between July and the end of August, you also have the North Uist Games, the South Uist Games, the North Uist Agricultural Show and the South Uist Agricultural show – these tend to host a variety of stall-holders and are lovely days out for the whole family. For music lovers, we have the Eilean Dorcha Festival, which runs from the 27th of July until the 29th – expect an eclectic variety of bands playing anything from traditional music to rock. It is also a family-friendly event with plenty for kids to see and do. This is only a summary of the summer events; there will be plenty more to be announced so keep an eye on our events page to keep up to date.

The time coming up to Oidhche Samhna (Halloween) on the surface looks like a period of winding down from the busy summer – of course, there are still potatoes to be picked! There will still be a lot on in terms of events, so keep an eye on social media and our website to keep yourself in the loop. This is especially good advice in the run-up to Christmas to keep up to date with the many Christmas markets that pop up – an ideal time to pick up special and unique gifts.
I hope you found this introduction to the breadth of events in Uist helpful; below are some links to interesting information about the deep traditions I touched on throughout this blog.

Oidhche Challain
Hogmanay Shinty