Peter Johnson from Lochmaddy discovered a new hobby and skill during covid times; cooking! This new pastime came out of lockdown monotony, and he turned to Facebook to show his dishes and encourage the rest of us to get involved too.
Peter would take to the Facebook page of isoleats – which was set up by Jamie MacLeod of Benbecula, a Physics teacher in Sgoil Lionacleit who we hope to catch-up with soon on Uist Beò. On This page Peter and others shared their culinary masterpieces online. The page was a hit with teuchtars and those from further afield, beating the monotony of the pandemic and also, of the same old cooking.
It was actually at the beginning of covid that I got into it. I never used to cook that often. Maybe once a month I'd go down to the folks house and give mum a night off cooking or something. But being stuck in the house on my own for months during Covid is what got me into it. When the isoleats page was created it gave me something to focus on, it passed the time.
By the look of the isoleats page, Peter, and many other Hebridean's have a real flair for cooking and its turned into a great space for sharing and showing off what's going on peoples plates at home.
Seeing other folks' stuff and other folks' recipes and ideas, it inspired you to make different things and with different presentations and stuff.
I used to just throw everything on the plate because no one ever saw it, but then when the isoleats page came about I thought I better try and tidy it up a wee bit!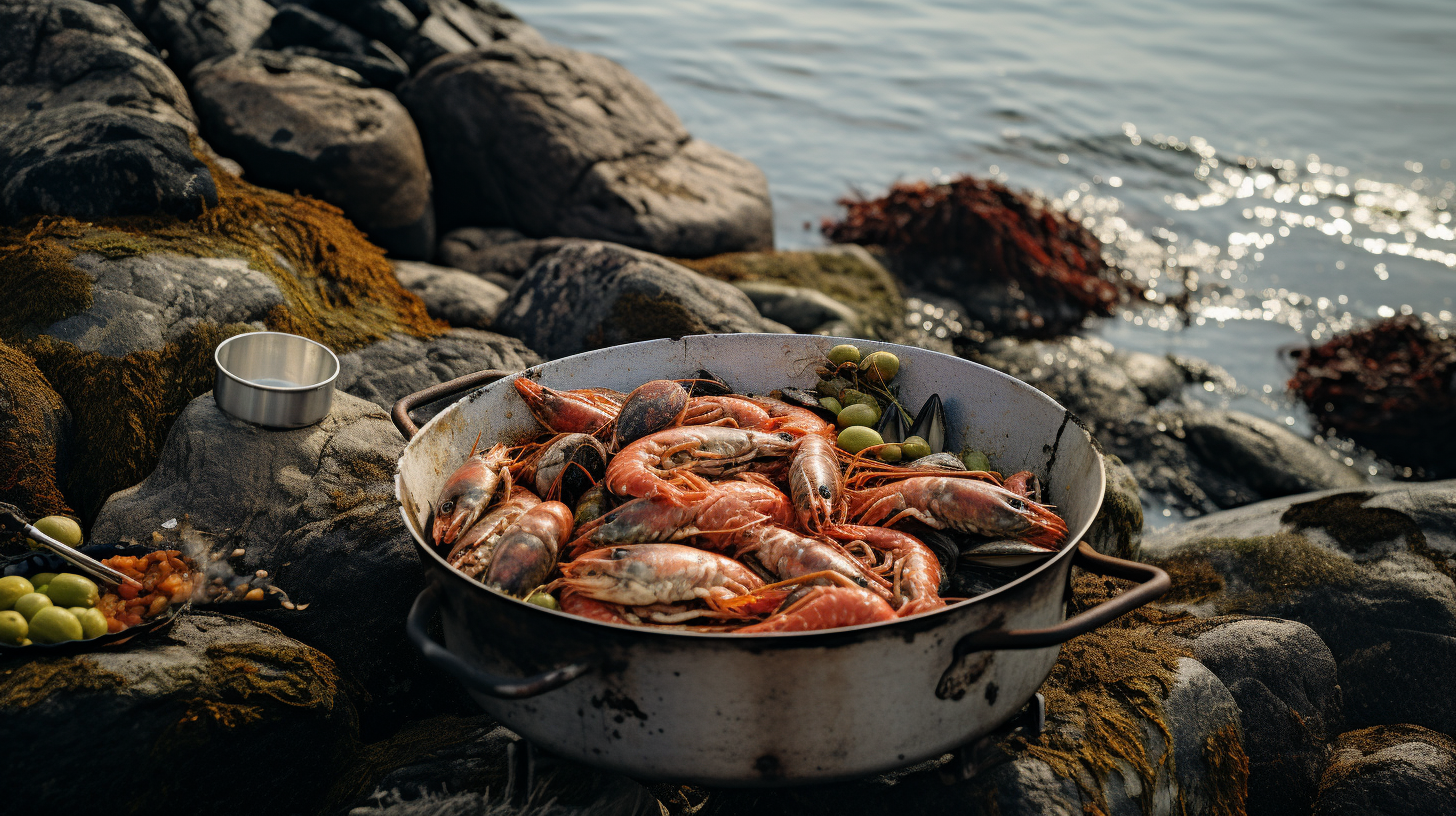 Make it not look like a dog's dinner, I suppose. I just try and make it as nice as I can on the plate. Cooking for others can be too stressful, I'm not sure how chefs in restaurants do it.
I like cooking seafood in general and I love eating it too. I used to have some creels when I was younger. I might again when I'm older. 
In Uist, we're very fortunate with our natural surroundings and the landscape. We have easy access to the sea and we have plenty of land which we grow on and harvest from, however that's not always the walk on the romantic windswept croft and fishing isn't 'all swimming' all of the time in a way that some might imagine.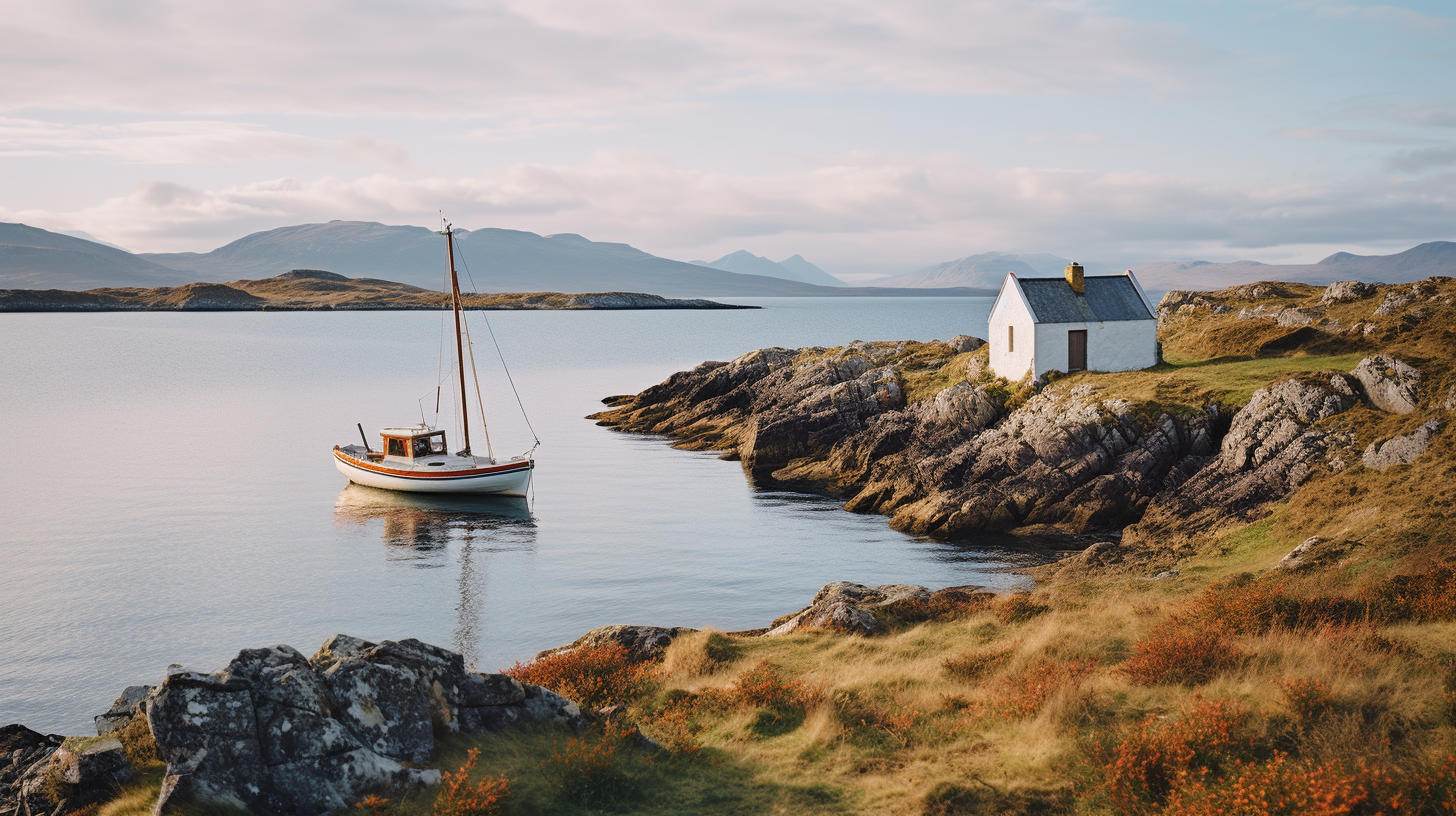 Luckily, like the rest of the North West of Scotland, we also have a healthy fish farming industry in the islands, of which Peter is a part of.
It's a good thing that there's lots of fish farms around Uist. Obviously it brings high employment and it makes it easier to buy fish and shellfish. There's the smokehouses in North Uist and South Uist. There's a local supply of shell fish from Kallin Shellfish and local fishermen.
Even with meats there's a good choice in Uist. We have local venison and then we have the crofters who can sell cattle and sheep.
With all these natural and delicious resources that we have here, it is quite incredible the distance it goes. You will often find Hebridean shellfish being served to you in a restaurant if you happen to go on a mediterranean holiday.
I think with the amount of local produce and products that comes from the islands, I sometimes feel that a lot of local people don't get to experience it. It seems like a lot of stuff gets sent away or sent abroad.
With the markets for seafood being healthier abroad, it has in the past been difficult to get local produce here, in Uist. Thankfully though that tide is turning with the help of our local businesses and fishermen. Aside from that:
It would be good to do wee food markets locally, just to promote what we have here. Almost like a street food event but in one of the halls and in different places. it would be nice to see food fares, and different wee stalls at a Christmas market with focus on local produce or street food from the croft. Sometimes it's harder for people to travel to each end of the islands so it would be good to bring it all together at a food market.
Maybe you're onto something, Peter. Watch this space!
Here is one of Peter's recipes.
I don't really tend to keep to a recipe, I like to browse the internet and then get some ideas from a few and then make it my own. I like experimenting.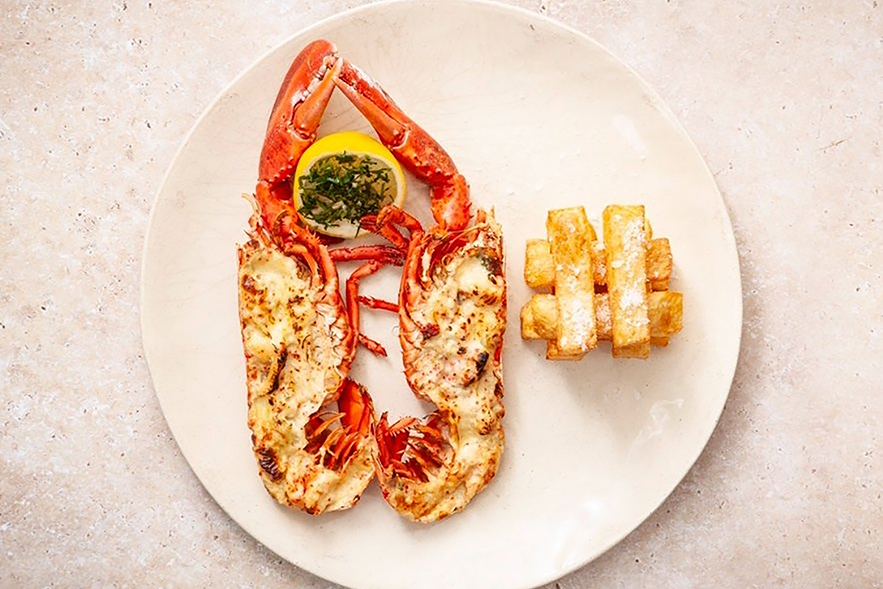 Lobster Thermidor with Chips.
1 cooked lobster, weighing approx. 750g
30g of cheddar, grated
25g of unsalted butter
1 shallot, finely chopped
275ml of fish stock
55ml of white wine
110ml of double cream
1/2 tsp English mustard
2 tbsp of parsley, finely chopped, plus a little extra to garnish
1 lemon
sea salt
freshly ground black pepper
2 large floury potatoes, peeled and cut into 1.5cm-thick chips
vegetable oil, for deep-frying
Cut the lobster in half lengthways and remove as much meat from the claws, tail and head as you can. Chop the meat into small pieces and set aside (keep the shells too)
For the sauce, place the butter in a pan over a medium heat. Add the shallots and cook for 5 minutes-ish, until soft. Mix in the lobster meat, then pour in the wine and bring to a simmer
Continue to cook until the wine evaporates and the mixture becomes dry again, then pour in the fish stock and double cream and bring to the boil. Simmer until reduced by half, stirring occasionally. While the sauce reduces, preheat a grill to medium and bring your oil back up to 190°C
Once reduced, add the mustard, parsley and 20g of the cheese to the sauce. Halve the lemon and squeeze in one half, then season to taste. Spoon the mixture inside each lobster shell half, then sprinkle with the rest of the cheese.
Place the chips back in the hot oil and fry for 3-4 minutes or until golden and cooked through. At the same time, place the filled lobster shells under the grill for 3-4 minutes until golden brown.
Drain the chips, season with salt and serve alongside the Thermidor, with the other half of the lemon and sprinkle with parsley.
Enjoy!