"Instead of being stuck in the classroom and looking outside, we're taking children outside to experience and learn from their environment and community"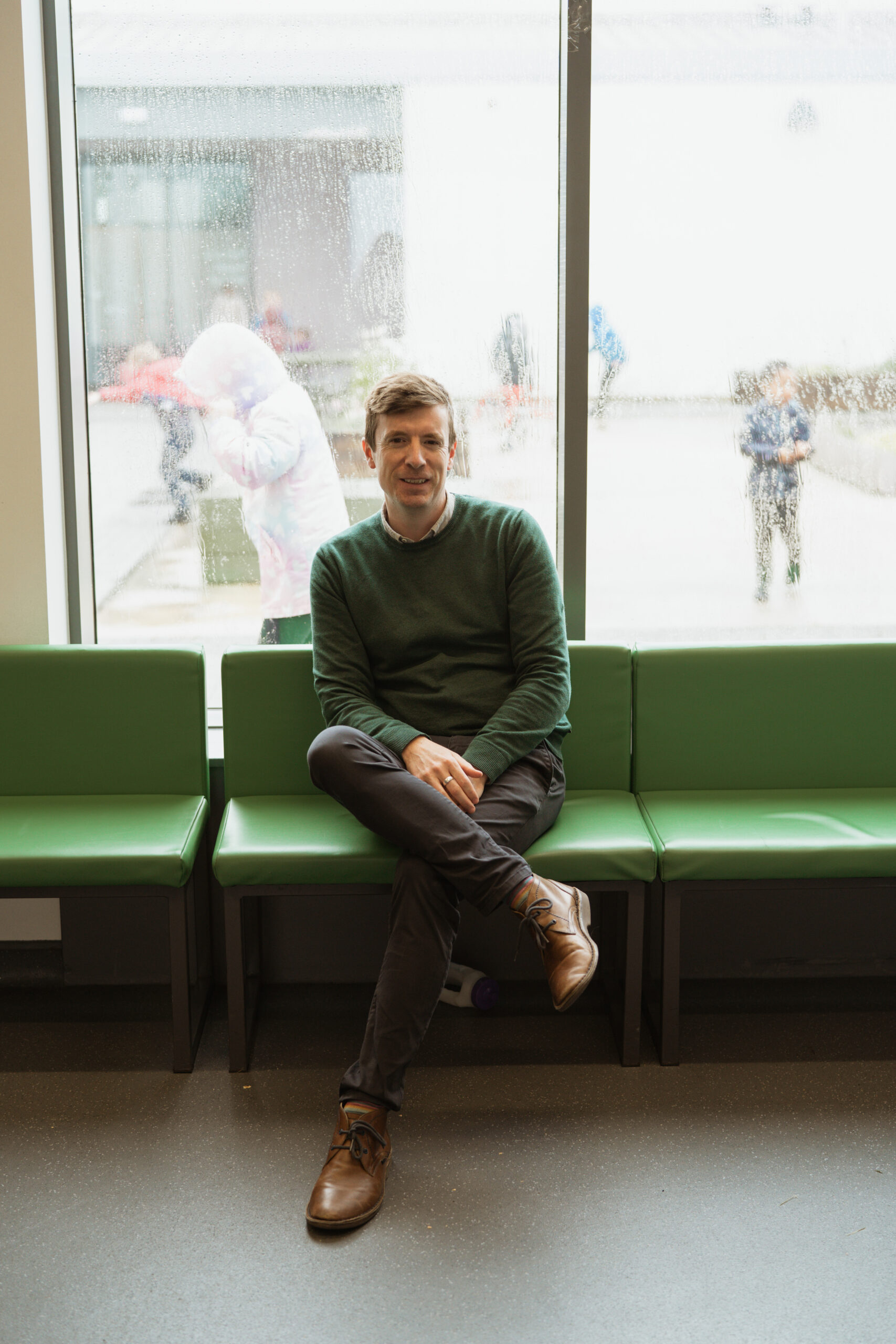 Sgoil Dhalabroig goes with the ethos that outdoor learning is as important as traditional classroom education at the jotters. Head of School, Sam Minty, tells us what learning life is like 'Up South' for our youngsters in Daliburgh primary school.
As much as possible, we try to get children away from their desks and to the outdoors. We do it to build up their resilience, their problem solving skills and their confidence.
We're so lucky. When you see Sgoil Dhalabroig, you see the loch and lots of space and plenty of opportunities. We play to the advantages of our location and to the strengths of our community.
Sam was schooled in Tolsta Primary, Lewis. In his day, he was one of 24 children who attended, and they had a strong bond with the crofting community which surrounded them at the time. Reflecting on his this he says:
I loved it. It was back in the 90's and it was a really good time for learning and being taken outdoors – I got a lot from that.
I suppose as adults we always think of what our own primary education was like. When we started talking about kayaking here, way back in 2017, a lot of people said 'Oh, that's what I did with the Muilleach,' and 'that was the best thing about going to school.'
With the summer holidays now here, the pupils and staff of Sgoil Dhalabroig are enjoying a well deserved rest after a busy term and a productive year. We asked Sam about his own ideas on children's education.
Learning can take place in many places. Children should see school as a fun place to be and it's not all about being stuck in a classroom. I suppose as adults that none of us would like to be stuck in an office, when we could be outside or doing something else. I certainly see all the community work that we do alongside the intergenerational work and outdoor work adds to their education.
We want learners to stay in Uist, we want them to build their lives here and not feel that they have to go away to succeed. Gone are the days when leaving your island was essential at 17 or 18 years of age. I did it, like many others, and then sometimes it's difficult for people to be able to get back home later in life.
We have very bright, intelligent pupils and for some, their interest might not lie in academia. There's now a realisation that they don't have to go away, so let's help them excel in their choices in life.
Sgoil Dhalabroig currently educates 79 pupils and these are split between three Gaelic medium classes and two Gaelic learner classes. The majority of these current pupils are enrolled in Gaelic medium education.
Gàidhlig is a really important part of who we are. It's healthy that we continue with the higher numbers in Gaelic and that's what we want. That's who we are.
We have strengths of the Gàidhlig speaking staff; the teachers, assistants, cooks, cleaners and janitors across the school all play their part in developing the language. 
Hearing the children sing 'Teann a Nall' together really makes you proud. And it's with the support of Ceòlas, the Fèis and the music tutors in fiddle, chanter, box, dancing and singing that gives us this experience.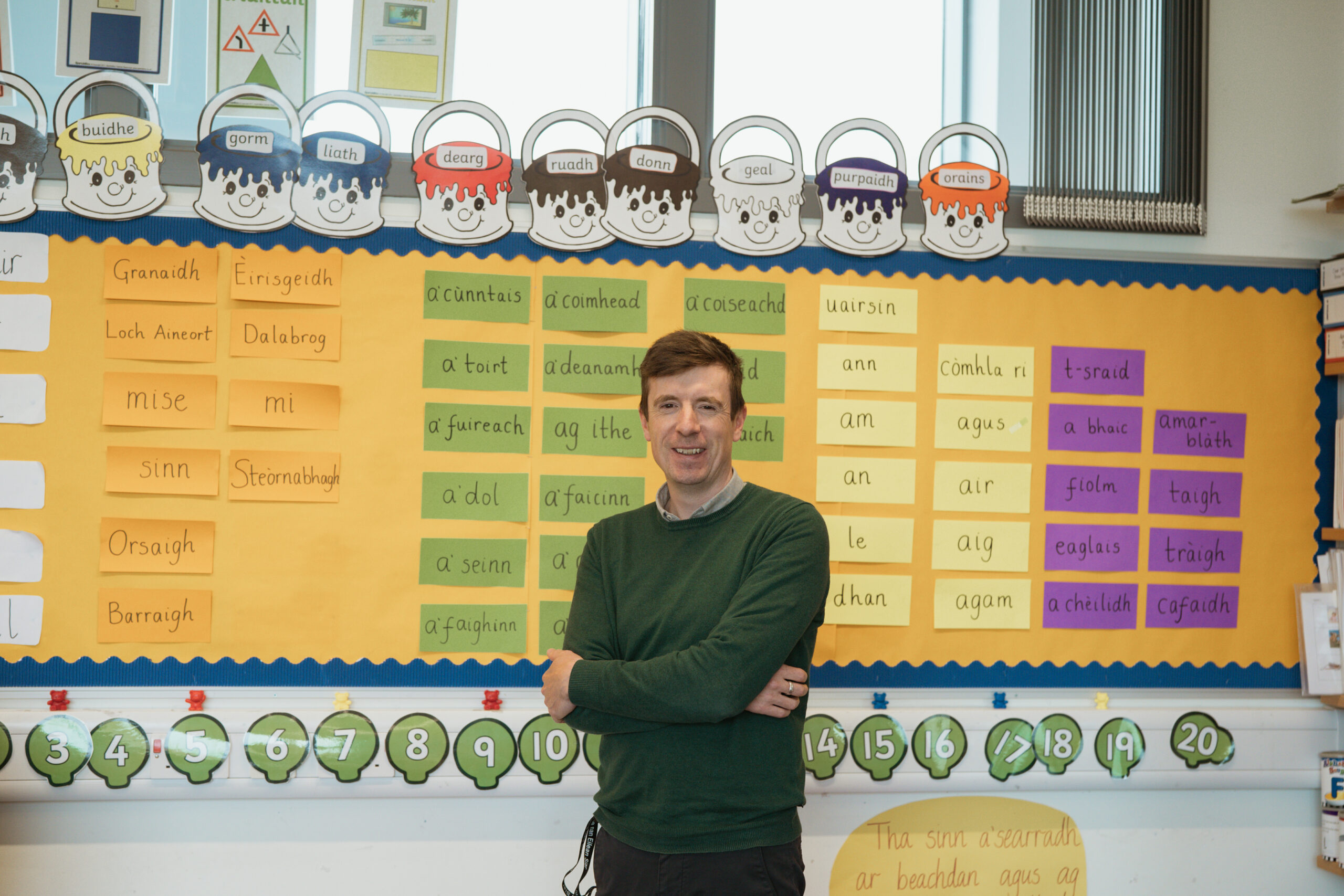 We also do armchair athletics with people in the local care home and we're working on bringing the pupils and the community together more often. This has a great impact on everybody's mental health. Gaelic also comes into it because there's a richness to how the older generation describe things in the language, and the children are hearing and learning in their company.
Sgoil Dhalabroig relies largely on the local community, and this support contributes to its success. Sam mentions how strong our people have been in getting behind the school's plans.
The support locally in fundraising has been massive.
The community has been amazing and really remarkable. When I added up how much we managed to fundraise in the last year, the figure was up to about £25,000 – which is just incredible for such a small school.
There is a cost of living crisis and the parent council has done a huge amount of work to get funding. Life is expensive here, so any help we can give to families through breakfast clubs, the uniform swap shop and reducing the cost of school trips makes a difference.
Sgoil Dhalabroig have been taking their school trips a bit closer to home recently by going camping. Within the various classes of the school they have many options to cater for the ages, and these trips have been a hit.
We camp in Kilbride for the younger pupils and then by Primary 7 we can go a bit further afield to Fudaigh for a night of wild camping.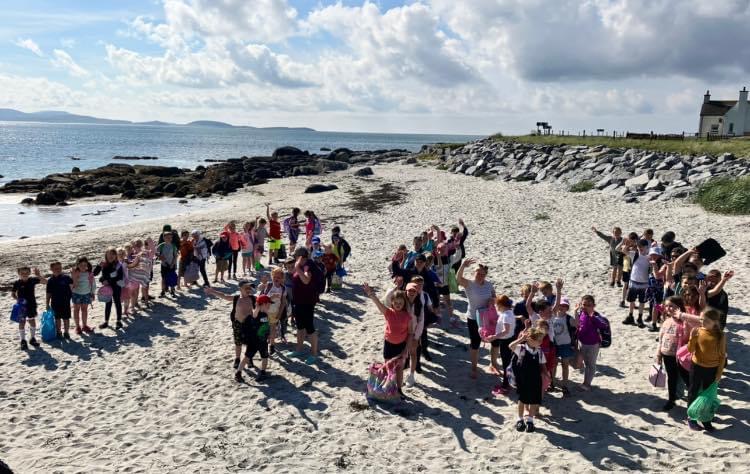 Camping is a great one, because with covid there are lots of children that haven't been able to go for sleepovers. We think of how to give children independence, resilience and confidence so they have the skills to do these things by themselves.
Speaking to one of these recent campers in Primary 6, Uist Beò heard that: It was amazing. I had a lot of fun camping with my friends and I especially liked the paddleboarding.
One of the biggest influencers of Sgoil Dhalabroigs practises today have come from Sam's predecessor, Jane MacIntyre.
Jane MacIntyre worked for over 30 years in the school and was appointed as Head of School in 2018. She held this role until sadly, she died suddenly in March, 2022.
Jane was the catalyst of where the school is today.
She was such an approachable, friendly, welcoming person. She was incredibly forward thinking while she was the Head of School. She could see what the learners of the school, and the community would respond well to – so then that they could fly.
When I came to the school and saw the vision that Jane had with the outdoors, the community and the crofting I thought it was fantastic. She was somebody who wanted to go in the same direction as I did. Jane had the most incredible knowledge of this community, the families and the children and she played to those advantages. Her ideas definitely helped us get through covid as well.
Recently, she has been honoured with a portrait which hangs proudly in the assembly area of Sgoil Dhalabroig.
She was so modest so it was hard to find pictures of Jane, and I'm sure she'd be mad if she knew it was there. It was done by her cousin William Wallace, who is an art teacher in Thurso and we welcome any members of the community into the building to come in to see it.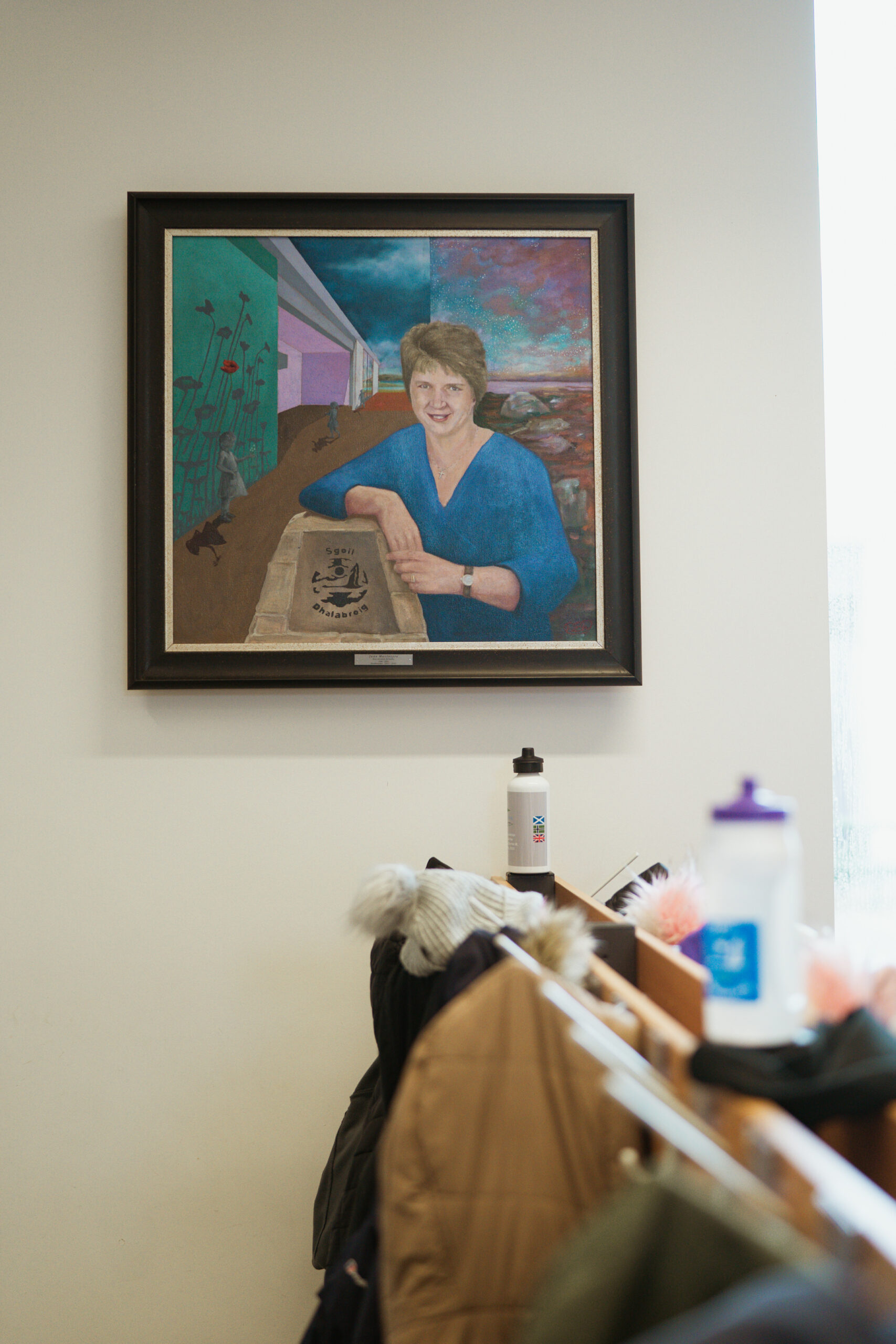 Through kayaks, bikes, cross country running, community work, and school work, Jane's memory lives on in Sgoil Dhalabroig.
In talking about his current experience, Sam says:
I love being here and I know that the staff love being in Sgoil Dhalabroig. We feel very privileged to work here. The kids are fantastic, we have such nice children. They're hardworking, they're fun, they're engaged, and they're intelligent.
I would like to say how grateful I am to the community here in supporting us as a school and for families and for learners. They say "It takes a village to raise a child." and there's definitely that feeling here in Daliburgh and in South Uist.
If you'd like to keep up to date with what's going on in Sgoil Dhalabroig, you can do so by listening to their podcast which is hosted and produced by the pupils and available on Spotify.